Under Our Skin – Chronic Lyme Disease
Watch ON DEMAND or the Trailer
Netflix has "Under Our Skin available for instant viewing – just type the name of the Movie in the search box and hit the blue PLAY button.  If you don't subscribe, Netflix has a free trial you can sign up for.
Or check You Tube and search for the full film.
The production team for "Under Our Skin" maintained a blog for awhile that generated some very fascinating articles.  Hopefully you didn't miss the exciting interview that occurred back in February of 2007 in the retired doctor's home in Montana. Read the following excerpt:
"Just as we began filming, there was a pounding on the door, and we found ourselves facing someone who turned out to be a top researcher at the nearby Rocky Mountain Laboratories, a biolevel-4 NIH research facility. Standing on the porch, our uninvited guest said, "I've been told that I need to supervise this interview. This comes from the highest levels. There are things that Willy can't talk about."
You can read the entire story here "Lyme Discoverer Dr.Willy Burgdorfer Breaks Silence on Heated Controversy
Blog Headlines for a full list of the articles that were published on the blog.  It includes more interesting articles on the making of the film, press and Headline news as the film was released; included are inside stories about the wide reception (Dr. Oz on Oprah) and incredible recognition given to chronic Lyme disease as a result.
*****
Under the Eightball
Information on the documentary "Under the Eightball" about the government conspiracy and coverup about Plum Island and the virulent spread of chronic Lyme disease, and what really happened at Lab 257.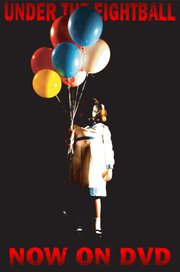 Buy the CD
Those that would prefer paying by check or money order– Please make the check out to: Andalusian Dogs With shipping and handling and Michigan sales tax the total is $25.20 Per copy, please specify quantity. Please mail to our offices at : Andalusian Dogs 711 S Maple St Traverse City MI. 49684 Be sure to include shipping address.
*****
LymeLight – The Story Of Professional Freeskier Angeli VanLaanen Living With Lyme Disease from NEU PRODUCTIONS
LymeLight is a Lyme Disease awareness film that serves as an inspirational story for those who have fought to overcome chronic illness and physical setbacks. It delivers a powerful message of the importance of living a healthy, active lifestyle on a daily basis.
Angeli VanLaanen is one of the top female freeskiers in the world and a well rounded athlete with expertise in all areas of her sport. She has been featured on the cover of Skiing Magazine and in renowned skiing publications such as Powder Magazine and Freeskier Magazine. Angeli has also competed in high level halfpipe events such as the X-Games and Dew Tour.
LymeLight is a 30 minute documentary film based on Angeli VanLaanen's battle with Lyme Disease. Angeli, now 27 years old, started showing Lyme symptoms at the tender age of 10. After developing a chronic sinus infection, fainting spells, dyslexia and fatigue, Angeli faced over a decade of misdiagnoses. Through the years, her symptoms fluctuated and progressed into a debilitating chronic illness. In the summer of 2009 VanLaanen was sleeping for multiple days at a time and experiencing crippling body pain. Lyme Disease is a bacterial infection spread by the bite of an infected Black Legged Tick (commonly known as a Deer Tick).
Many children and adults cannot recall a bite because young Deer Ticks can be as small as a poppyseed. If caught promptly, Lyme Disease can be treated in a matter of weeks. Angeli's story of misdiagnosis is all too common due to the lack of knowledge in our society and in the medical community. After her diagnosis in November 2009, VanLaanen was forced to put her competitive halfpipe career on hold at the peak of her career. "It's the lowest I've ever felt," Angeli says.
"With no guarantee that treatment would relieve my symptoms, I had very little to hold on to." Motivated by her struggle, Angeli linked up with Director John Roderick of Neu Productions in November of 2011 to make an awareness piece sharing a raw account of her experience. "Our goal with LymeLight is to educate people about Lyme Disease, where it comes from, what the symptoms are and the challenges people face reclaiming their health," says Roderick. Neu Productions is a diverse action sports and adventure production company based in Breckenridge, Colorado, producing powerful digital content.
After taking 3 years off from halfpipe for Lyme treatment, Angeli returned to competition and placed 6th at the FIS World Championships and is ranked 9th in the world on the AFP points list for the 2012-2013 season. Halfpipe skiing was recently added to the list of events to premier at the Winter Olympic Games in Sochi, Russia 2014. VanLaanen's dream of becoming an Olympian is possible now that she is symptom free and in remission.
After the Olympics next year, Angeli plans to tour LymeLight in schools around the country as a part of an awareness program she has created. "When I was young I just flicked ticks off of me." Angeli recalls "I didn't know to tell my mom or doctor." With the help of the LymeLight Foundation, a nonprofit VanLaanen is a spokesperson for, she will educate kids about Lyme Disease prevention and overcoming hard times.
***** 
Why Am I Still So Sick?
In 2004, Richard Longland was sickened by an undiagnosed disease after spine surgery. In the months that followed, a list of maladies appeared: headaches; neck, throat and shoulder pain; and random "lightning shocks." In 2005 and 2006, other problems emerged and challenged his sanity: cardiovascular and neurological troubles; bone-crushing fatigue; and the proverbial brain fog.
After battling the medical system, he was finally diagnosed with a systemic bacterial infection in 2007. The mycoplasma pneumonia that disabled him could have originated from any number of sources: the surgical intubation process, the hospital, any public place, or even a tick. He visited more than twenty doctors for a diagnosis.
During this difficult period, he created The Arthroplasty Patient foundation, produced its first educational film and helped spine patients get "back on their feet with an active global discussion board. His focused research on antimicrobials and anti-biofilm treatments led to his treatment program using pharmaceutical and naturopathic agents to rid his body of systemic bacterial biofilms. The interviews are available individually, and the film available here when it is released.